"I wanted to provide people with a efficient and effective way to not only apply for and obtain their Concealed Carry Weapons Permit, but I wanted to develop a class and training tool to ensure a good learning experience that will instill confidence in the gun owner."
"I am a retired NCIS Special Agent. I've been in Law Enforcement for 30 years. During that entire time I have been carrying, training with and training others on all types of firearms. Since 1988 I have been a certified firearms instructor, mainly teaching and qualifying NCIS Special Agents. Now, I want to safely train you.
"I created a comprehensive learning experience that will allow individuals an opportunity to train in the comfort of their home. We will concentrate on the laws and general rules of carrying a concealed firearm. We will discuss safety and the proper handling of a firearm. We will fulfill the State of Florida training requirement by incorporating your live fire training by a licensed firearms instructor.
Are you an out of state resident. It's okay, you can still take the class and obtain a Florida Concealed Carry Permit.
​ *Please check your state regulations prior to taking the class to ensure no laws have been changed or restrictions instituted.
** The following states will not honor a Florida Concealed Carry Permit unless you are a resident of Florida: Colorado, ​Maine, Michigan, New Hampshire, Pennsylvania and South Carolina. The remianing states will accept a Florida CCWP.
*** You'll get you certificate immediately after completing the on-line class and the live fire exercise. This can all be done in a few hours.
*Anyone can take this class, it's not just for Florida residents. No matter what state you reside you can get a Florida Firearms Permit. Take this on-line class which is required prior to applying for your Florida Concealed Carry Weapon/Firearm Permit. The Florida Concealed Carry Permit is currently accepted in 36 states. **Click on the Map below to find out which states have reciprocity with Florida. If you have questions prior to signing up for the class write to us at contactus@ccwpacademy.com
Mobile Friendly Website. Take this class on your mobile device.
I want a Florida Concealed Weapons Permit
I do not want a Florida Concealed Weapons Permit - BUT I want to learn the laws, rules and regulations before I carry a concealed firearm without a permit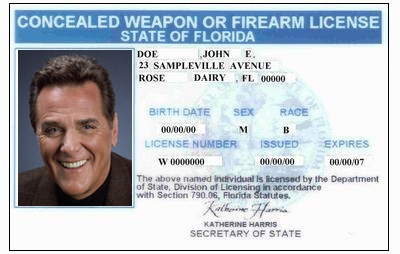 Step #1: Take the Online Course

Step #2: Complete the Live Fire Exercise
Step #3: Get your certificate to apply for the Florida Concealed Carry Weapons Permit
Step #1: Take the Online Course
Your class will cover the following topics and much more:
- Weapons Included in the Law
- Prohibited Ammunition
- Carrying Prohibition
- Deadly Force
- Justifiable Use of Force
- Home Protection "Popular term is Castle Doctrine"
- Florida "Stand Your Ground" Law
- Using a firearm as leverage in an argument
- Verbal threats of Force
- Warning Shots
- Using a firearm while under the influence
- Shoot/No Shoot Scenarios
You will get a certificate of completion. If you decide you want to obtain your license simply complete the live fire exercise.